Stainless Steel Balustrade Systems
Bollin Rigging supplies a range of stainless steel balustrade systems for homes, offices, garden patios and decking. Supplied as economically priced kits of pre machined parts, they are straightforward to install and offer a considerable financial saving to the end user.
Using satin finish components pre-fitted with infill wires, your stainless steel balustrade will simply require gluing using a high strength adhesive once the balustrade is set up in position.
Unlike other companies, we supply our balustrade handrails and posts cut to size, drilled and tapped ready to build up with no cutting and drilling required by the end user on site.
Using the large range of components available, Bollin Rigging can supply stylish solutions to practically any area requiring handrails and edge protection.
For interior use, we recommend 304 grade stainless components and for exterior use, fully corrosion resistant 316 stainless.
Bollin Rigging designs and then pre-builds the balustrade in our workshops so that you can be sure that the result will fit perfectly when delivered.
In addition to the standard tube diameter, we also supply 48mm diameter alternative for extra strength. If required, we can supply a range of sustainably sourced hardwood handrails for fitting on-site by the customer or by a joiner.
Infill is provided using 4mm stainless steel infill wires and tensioners attached to the baluster posts allowing a clear view without the unnecessary clutter.
In addition to wire infill, we are happy to supply balustrades fitted with glass holders ready to accept either 8mm or 10mm toughened glass panels that are supplied cut to size and delivered to your site ready for easy installation into the steel framework.
Please note that while we are happy to advise on design and choice of materials, it is up to the customer to ensure that any balustrade supplied complies with local building regulations should these relate to the proposed installation.---------------------------------------------------------------------------------------------------------------------------------------------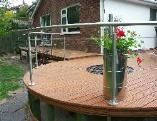 Decking Balustrade
A custom-built decking balustrade system, which includes a curved handrail in the design.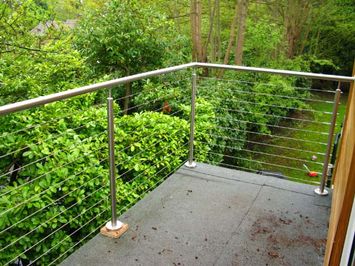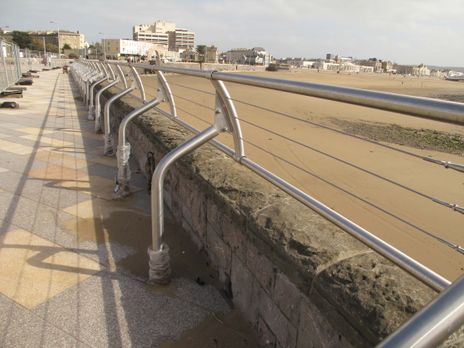 Commercial Infill Wire system
Supplied to Weston Super Mare seafront balustrade featuring 6mm infill wire rigging and turnbuckle tensioner system our products were fitted to over 800m of balustrade.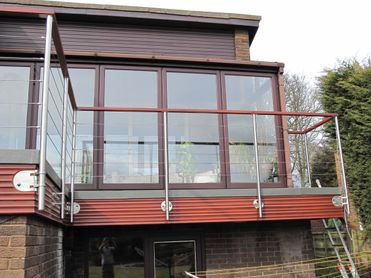 Balcony Side Mounted Handrail
Supplied and fitted by Bollin Rigging, this side plate mounted balustrade system features a hardwood handrail and cable rigging infill wires.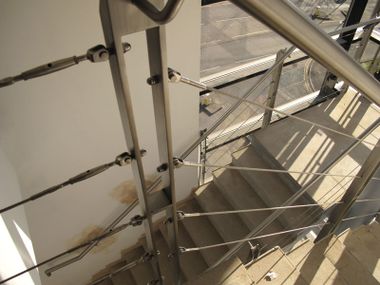 Office Staircase
Working in conjunction with a specialist fabrication company, Bollin Rigging rigged this 12-flight staircase in two days using their mobile swaging machine.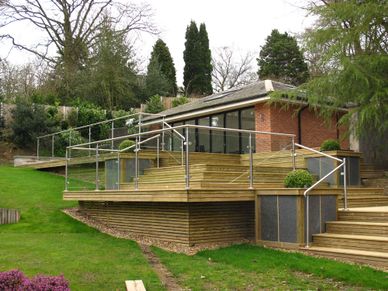 Stainless Post And Glass Infill Balustrade System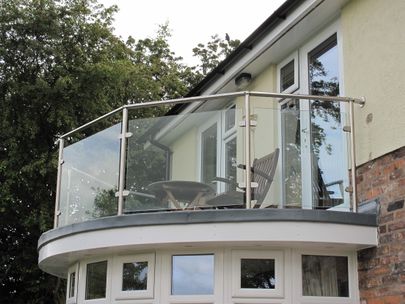 Glass,Balcony Balustrade
Bollin Rigging fitted this balcony with a glass and stainless steel balustrade handrail for a local client.